Specialized NVIDIA embedded GPU
Embedded GPU vision system
MRTech SK offers compact comprehensive solution based on the NVIDIA Jetson TX1/TX2 supercomputer modules for multi-camera embedded, 3D Vision, airborne and other mobile applications. Evidently, our team sees, understands this trend, so MRTech SK develops and offers customers several solutions based on new NVIDIA technologies.
Advantages of specialized supercomputer graphical systems based on the NVIDIA embedded GPU:
Jetson TX1/TX2 carrier specialized for embedded vision
Customized design with a wide selection of blocks and interfaces
MRTech high performance software for image & video processing
Fast HW / SW prototyping using NVIDIA development kits
Rapid time-to-market
MRTech company implements real time video processing algorithms in such compact low power hardware, including:
Real-time object detection, localization and classification based on state of the art neural net
Robust real-time object tracking algorithms etc.
Hardware Configuration
Base module:
NVIDIA® Jetson TX1 System-on-Module – 256 CUDA cores, Quad ARM® A57/2 CPU or
NVIDIA® Jetson TX2 System-on-Module – 256 CUDA cores, Dual Denver Quad ARM® A57/2 CPU
Phoxi carrier board
Phoxi board is a specialized carrier for NVIDIA® Jetson TX1/TX2 module specially designed by XIMEA xiLab for customized USB3  and PCIe board-level cameras:
Dimensions: 87 x 50 x 29 mm (with TX1/TX2 module)
Weight: 33 grams (without TX1/TX2 module)
Single power source: 12V DC
Phoxi carrier interfaces:
2x PCIe Gen2 x2 port for FFC/FPC cable
2x USB 3.0 port for FFC/FPC cable
10/100/1000 Ethernet
GPIO of Jetson TX1/TX2
Cameras GPIO
Cameras
Up to four semi-housed XIMEA xiC / xiX cameras can be used with Phoxi carrier board, such as:
Compact cameras with Sony Pregius™ sensors – from 2.3 MPix (165 fps) to 12 MPix (31 fps)
High-performance PCIe cameras – from 12 MPix (130 fps) to 50 MPix (30 fps)
Customized XIMEA cameras with USB3 and PCIe interfaces

Software
Operating system:
Linux for Tegra R23.2 (L4T) including Supported Features:
Kernel version 3.10.67, Media APIs, U-Boot
Machine Vision software
XIMEA xiAPI – application programming interfaces, libraries, tools for comfortable use of XIMEA cameras
Fastvideo Lab software for high speed imaging on NVIDIA GPUs
MRTech Image Flow processing software for building full image processing pipelines in machine vision systems including acquisition, color pre-processing, encoding, streaming, disk writing, etc.
Setup 1.
Application – Panoramic real-time video
Hardware
Three xiC/xiX XIMEA cameras 3.1 MPix, up to 122 fps each
NVIDIA Jetson TX2 module
Phoxi carrier
Image processing:
3x 3.1 MPix images acquisition, black level, white balance, demosaicing with up to 55 FPS and 9 ms latency
Render on the screen or H.264 encoding and streaming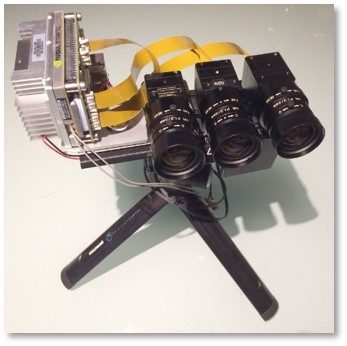 Setup 2.
Application – Long Distance Remote UAV
Hardware:
20 MPix main and 5 MPix subminiature cameras
NVIDIA Jetson TX1 module
Phoxi carrier
SSD 960 PRO NVMe M.2 512GB
Image processing:
5K image acquisition (main camera)
Black level, white balance, demosaicing, SSD writing
H.265 encoding and streaming of 4K images with 40 fps and 35 ms latency