MRTech company provides integrated machine vision solutions and image processing system for clients. As a Technology Partner of XIMEA we perfectly know and work with advanced industrial XIMEA cameras, use own high-performance software for image processing, other technologies when needed. Here are some of our Machine Vision cases.
Please send request if you are interested in the standard or customized solution.
We offer our customers compact comprehensive solution based on the NVIDIA Jetson TX2 supercomputer module for multi-camera embedded, 3D Vision, airborne and other mobile applications. It means imaging systems which rely on small feedback time, like autonomous cars, hexacopters or drones, mobile robots that should be remotely controlled via wireless network, etc and when just one camera can't be enough to get full info from controlling objects.
The solution includes XIMEA cameras, NVIDIA / XIMEA computer hardware and MRTech SK software.
Applications
Drones and UAV, Aerial mapping system
Autonomous Robotic Systems
Industrial Embedded Imaging
3D Vision
Cameras configuration
In total, up to eight XIMEA cameras can be used and connected to Jetson in the system, including:
4x PCIe X2G2 cameras with ribbon camera interfaces
1x PCIe X4G2 camera with ribbon camera interfaces
2x USB 3.1 Gen1 cameras with ribbon camera interfaces
1x USB 3.1 Gen1 camera with standard USB Type A cable
Hardware Configuration
Base module – NVIDIA® Jetson TX2 System-on-Module with:
GPU: NVIDIA Pascal™, 256 CUDA cores
CPU: Dual Denver2 plus Quad ARM® A57
Memory: 8 GB LPDDR4
Storage: 32 GB eMMC
xEC2 carrier board – specialized carrier for NVIDIA® Jetson TX2 module specially designed by XIMEA to connect customized PCIe and USB3 cameras of xiX / xiC / xiQ series.
Software
Tegra kit for drone has all necessary software to start using it in a customer application. Uploaded software package includes:
Linux for Tegra (L4T) operating system
CUDA 9 and other necessary utilities
XIMEA xiAPI with CamTool demo application
MRTech run-time application with implemented pipelines for all connected cameras:

acquisition -> black level -> white balance -> demosaic
SSD writing, gain control, autoexposure and other as options
H.264/H.265 encoding -> RTSP streaming via Ethernet and wi-fi

Application to control cameras aperture and exposure
When necessary, MRTech SK provides customization of its software to the customer's requirements.
Receiving station
RTSP streams from all cameras can be received using VLC app on one of the devices such as Macbook with MacOS, desktop / notebook with Windows or Linux OS, Apple devices such as iPhone, iPad, etc.
MRTech SK offers its own HW/SW solution for the receiving station.
Glass-to-glass latency for one camera
Test with one 3.1Mpix XIMEA MX031CG camera and desktop receiving station with Quadro P2000 GPU over Wi-Fi:
70FPS, 17ms between frames
exposure time: 1ms
PCIe data transfer: 4ms
processing pipeline: 10ms for the camera
network: 1ms average
display FPS: 144, 7ms between frames
Measured glass-to-glass latency:
full resolution 1 camera: 35-66ms, average/median 50ms
1080p/720p ROI: decrease of ~5ms, which is not measurable in this test (less than accuracy)
… and two cameras
Test with two 3.1Mpix XIMEA MX031CG cameras and desktop receiving station with Quadro P2000 GPU over Wi-Fi:
60FPS, 17ms between frames for each camera
exposure time: 1ms
PCIe data transfer: 4ms
processing pipeline: 15ms for both cameras
network: 1ms average
display FPS: 144, 7ms between frames
Measured glass-to-glass latency:
full resolution 2 cameras: 50-68ms, average/median 60ms
1080p/720p ROI: decrease of ~5ms, which is not measurable in this test (less than accuracy)
Multi-camera embedded system
Application:
Panoramic real-time video
Industrial multi-camera systems
Cameras and hardware:
Three xiC/xiX XIMEA cameras 3.1 MPix, up to 122 fps each
NVIDIA Jetson TX2 module with custom carrier
Image processing:
Full pre-processing workflow – acquisition, black level, white balance, demosaicing etc
Render on the screen or H.264 encoding and streaming
Results:
55 FPS with 3 cameras running at the same time with 9 ms processing latency
Power usage 22W (including cameras)
Additional features and options:
On demand customization and external devices
Implementation of MV algorithms such as stitching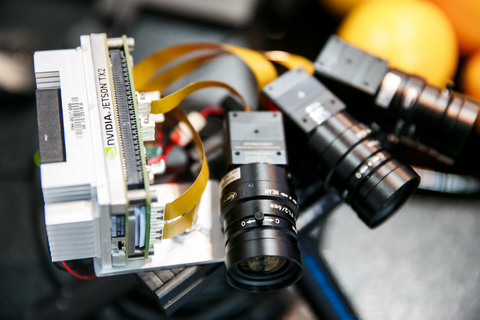 Multi-camera embedded system
High-performance or high-speed camera desktop system
Application:
360 Panorama, VR and AR – Virtual and Augmented reality
Sports imaging and broadcast, Cinematography and Entertainment
Cameras:
High-performance (up to 49 MPix) and high-speed (up to 3500 FPS) XIMEA xiB/xiB-64 cameras with PCIe interfaces
Hardware:
Powerful Intel computer
One or two top NVIDIA cards (GTX1080 and higher)
Standard and customized PCIe adapters
Image processing:
Full pre-processing workflow – acquisition, black level, white balance, demosaicing, denoise
Color image CUDA processing – rendering on a screen, format transformations, etc
Encoding/decoding and streaming
Disk writing
Results:
Data bandwidth from 16 Gbit/s to 64 Gbit/s, with real data throughput up to 7000 MB/s
Maximum performance for particular hardware/software configuration
Zero latency processing (from several ms to scores of ms)
Additional features and options:
Cameras synchronization, setup customization on demand
Implementation of real time video processing algorithms